The monkees - more greatest hits
The Monkees is an American television program that originally aired from 1966 to 1968 on the NBC television network. The show's theme is that of an unknown local rock group from southern California that is trying to make it and the adventures they encounter.

Based on the 1964 runaway hit film A Hard Day's Night featuring The Beatles , up and coming filmmakers Bob Rafelson and Bert Schneider developed the concept of a similar band, only American, and their quest for fame and fortune. The idea was sold to Screen Gems in mid-1965 with a pilot script completed by the end of that year.

In late 1965, a casting call brought 400 actors to interviews resulting in 14 screen tests and audience evaluation. The four chosen were Micky Dolenz, who had starred in the TV series Circus Boy years before; Davy Jones, an English stage actor; Mike Nesmith, a non-actor but "real" musician; and Peter Tork, a folk musician from New York City.

Each episode would feature one or more songs using special effects and quick cut film techniques in what would become the template for MTV music videos 15 years later. Many of those songs were written by professional songwriters including Neil Diamond, Tommy Boyce and Bobby Hart and Gerry Goffin and Carole King. The music on the first two albums was provided by Los Angeles studio musicians with the four actors adding vocals. The release of singles featured in the show would many times rocket to the top spot on the charts.

Since cancellation, The Monkees has enjoyed new life in syndication and occasional marathon showings on MTV . All episodes including previously unseen interviews and the original pilot have been released on DVD.
This page is having a slideshow that uses Javascript. Your browser either doesn't support Javascript or you have it turned off. To see this page as it is meant to appear please use a Javascript enabled browser.
The Alternate Title of "Alternate Title"
Micky Dolenz composed a tune that he named after a phrase he'd heard on a British TV series called Til Death Us Do Part. When the song was released, however, BBC censors insisted that its name, "Randy Scouse Git," be replaced with an alternate title, since it was some sort of obscenity in British slang. Dolenz complied by re-naming his song "Alternate Title," and it went all the way to #2 on the British pop charts in 1967.
Disc Three
1. "(I Prithee) Do Not Ask For Love" (First Recorded Version - 2017 Stereo Remix) *
2. "Tear Drop City" (Original Speed – 2017 Stereo Remix) *
3. "Looking For The Good Times" (Backing Track With Backing Vocals) *
4. "I'll Spend My Life With You" (First Recorded Version – 2017 Stereo Remix) *
5. "Apples, Peaches, Bananas And Pears" (2017 Stereo Remix) *
6. "Don't Listen To Linda" (First Recorded Version – 2017 Stereo Remix) *
7. "I Never Thought It Peculiar" (Mono TV Mix)
8. "Laugh" (Mono TV Mix) *
9. "The Day We Fall In Love" (2017 Stereo Remix) *
10. "The Girl I Left Behind Me" (First Recorded Version - Backing Track)
11. "Mary, Mary" (2017 Stereo Remix) *
12. "Valleri" (First Recorded Version - 2017 Stereo Remix) *
13. "Words" (First Recorded Version - 2017 Stereo Remix) *
14. "Your Auntie Grizelda" (2017 Stereo Remix) *
15. "Look Out (Here Comes Tomorrow)" (With Peter's Narration - 2017 Stereo Remix) *
16. "I Never Thought It Peculiar" (2017 Stereo Remix) *
17. "Laugh" (2017 Stereo Remix) *
18. "She's So Far Out, She's In" (Live In Arizona, 1967) *
19. "You Just May Be The One" (Live In Arizona, 1967) *
20. "I Wanna Be Free" (Live In Arizona, 1967) *
21. "Sweet Young Thing" (Live In Arizona, 1967) *
22. "Papa Gene's Blues" (Live In Arizona, 1967) *
23. "I Can't Get Her Off Of My Mind" (Live In Arizona, 1967) *
24. "Cripple Creek" (Live In Arizona, 1967) *
25. "You Can't Judge A Book By The Cover" (Live In Arizona, 1967) *
26. "Gonna Build A Mountain" (Live In Arizona, 1967) *
27. "I Got A Woman" (Live In Arizona, 1967) *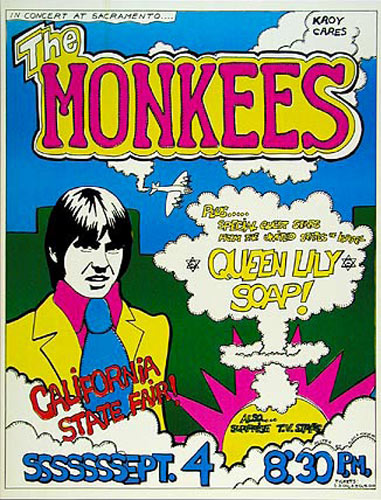 southerncross.us